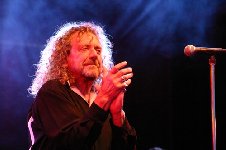 December 26, 2007
On December 10, the great lizard lords Led Zeppelin took to the stage one more time, and they rocked the planet. I had signed up for the raffle like everyone else, and not gotten tickets like everyone else. Because I wrote a book about the band (the 33 1/3 volume on the nameless fourth record), and write about music for a "living," I thought I had half a chance of getting paid to cover the event—or should I say, the Event. But though Blender mag had ranked my little grimoire as one of the top 40 rock books of all time (yippie!), that august organ of contemporary entertainment goofery, to which I contribute, did not see fit to ship my ass to the O2 Arena. The one person I heard of who did attend the show paid something like six grand for the privilege, so I consider myself lucky not to have done something really stupid on impulse.
Because in the end I got to participate in another way. About 24 hours after the show, a professional net nerd I know had already zapped me a link to a torrent file that, within not too many moments, had bloomed into a pretty dang good flac bootleg of the show. (FLAC is a lossless audio compression file format that's preferred by quality-obsessed file-swappers.) Soon I was also watching video clips on YouTube—that is, before they were yanked by Warner Music Group, and then unyanked again, like a cat chasing its tail, but a cat with tons of lawyers.
All this signal processing was exciting because, in its finicky geekery, it allowed participation in the Event without the privilege (and, frankly, the hassle) of actually being there. This is the future, or one of them anyway. Spytech and file-sharing are intensifying even as we embrace the fact that our experience itself increasingly takes place within circuits of mediation, of surveillance and recording and digital consumption. I mean, just look at all those camera ninjas running around the edge of the 02 stage, feeding the monitors that most of the crowd actually watched, capturing photons for product down the line. It's a postmodern truism that the live Event is impossible to divorce from the media Event, which is pretty obvious with Celine Dion or something but is more interestingly true when the live Event is, as it was in this case, playful, ferocious, and way less canned than it needed to be. I hear a live band here, actually listening to and playing along with one another, and enjoying themselves while they're at it.
Though lacking his father's geologic depths, Jason Bonham is an earnest simulacrum, but he doesn't sound like a simulacrum so much as a craftsman, like the big village butcher's big ole son. John Paul Jones really shined when he got behind the keys, especially when shaking up the warhorse "Stairway" (which his mates occasionally wounded) and grooving with "Trampled Underfoot." And it was a joy to hear Page sound so confident and crunchy, his leads playing sloppy seconds to his riffage, his daemonic timbres utterly familiar but still somehow fresh, as much a part of our sonic universe today as they were in 1975.
Particularly pleasing was Robert Plant, who looked fit as a fiddle but, as Ben Ratliff pointed out in his fine Times review, had the good graces not to flounce about like Mic Jagger. Some Spin fact-checker just emailed me today to see if I really said that Plant represented the "cock as holy fool" (I did); now the cock has become wise, or at least seasoned. His vocal cords no longer as golden as of yore, Plant lowered his range without losing the spunk, and pulled off some particularly cool rockabilly shit during "Black Dog." Always amusing in his stage patter, Plant name-dropped the Staples Singers and Blind Willie Johnson, and said, of Robertson Johnson's "Terraplane Blues," that "maybe Johnson got it from somewhere else, I'm sure he did, everybody nicks it." Plant was no doubt just taking the piss, but I cannot restrain my inner Christian paranoid from asking: where exactly is this somewhere else? And who the hell is this Nick??
While the Zeppelin reunion show was indeed an invocation, what was really being invoked was not the devil but, well, the entertainment juggernaut that is Led Zeppelin. Market-wise, their live appearance was as well-timed as a bonfire on solstice: the band recently released their "new" Mothership collection, featuring barely a hair's difference from their last new double-CD collection; there's also a redux of the still-wack The Song Remains of Same. In October, the behemoths gave into the digital regime and agreed to offer up their catalog online—an agreement that brought them an increased royalty rate from their distributor Warner Music Group, who also negotiated to oversee their copyrights. (Sharks!) I just saw The Golden Compass, and was treated with a Verizon ad for Zeppelin downloads before the film—a movie that, now that I think of it, also features a airship beefed up with metallurgic technology. When I finally played the bootleg backwards, I distinctly heard the following during the awesome rendition of "Kashmir": buyyy led seppelyn ringtonezz…
On one level, Zeppelin's appearance at the O2 Arena is just another spin of the hype wheel. But what moves this particular acolyte is how the band not so much fulfills the hype but overcomes the mechanics of it all through their incandescent power. Maybe I am just hopelessly ensorcelled, an addict since my 11-year-old self's purchase of Led Zeppelin I. But when I listen to the show, and sense the massive ripples of Zeppomania radiating through the mediaverse, no doubt soon to fade until the inevitable tour is announced, I feel something more like a restoration of an old analog rite than a greedy digital remastering.
Some of my favorite stuff on the bootleg is the applause—some punter's cry of ecstasy as they launch into "The Song Remains the Same," the voices massed alongside the final verses of "Stairway to Heaven." A stadium of brimming nervous systems, of memories and associations and imaginations stoked, all resonating, and resonating in a manner that is peculiar to this band and its mytho-magical dramaturgy, its marriage of empyrean and the pit, its evocation of inner forces and urge overkill. Feeding off this show at one remove, I was forced to recognize that I was still a believer, that live performance on a global stage can recall and retain something like majesty in our hypermediated age. Call it presence, if you will, or a piper's call. I just know I wish I had been there.