publish
Check it out
Mary Timony's Golden Dove
The best indie-prog artist hits another high.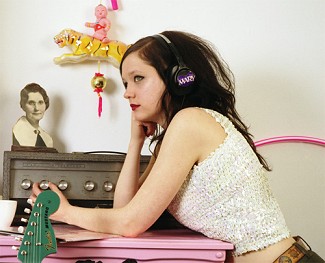 Village Voice, summer 2002
One of the spookiest verses in the whole pop arcana belongs, as it should, to Robert Johnson: "I got stones in my passway and my road seems dark at night," he cries, repeating the line before the killer twist: "I have pains in my heart, they have taken my appetite." He's not talking about satisfying the munchies but about the losing the hunger for life, a loss that can make the agonies of love seem like a merry-go-round by comparison. And it's a testament to the depths of Mary Timony's exquisitely dark heart that she arrives at the same bleak vista: "What will get me through this night," the enigmatic indie-rock chanteuse asks in "The Owl's Escape," a spectral nursery dirge from her new The Golden Dove (Matador). "'Til I begin to cling again?"
Timony clings to love and flees its clutches throughout the album, which weaves enchanting pagan ditties out of cello and euphonium, some cornball New Wave moves, and the serpentine economy of Timony's keyboards and excellent guitar. Lyrically, these love rants and laments suggest a single romantic carwreck, although Timony is too oblique for confessional autobiography (she's wearing a mask on the cover).
The album rings more true because it integrates, better than ever, the two rather schizophrenic sides of the persona she's been exploring since her early work in Helium. Timony launched that band snarling at boys, and her ferocity earned her the image of an insane man-hater. Then Timony started veiling her diary screeds with the images of dragons, devils, and rainbows that came to dominate 1997's The Magic City . The album stands as the indisputable summit of the admittedly circumscribed genre of indie-prog: Over Ren Faire instruments, restless time changes, and Timony's elegantly plucked and tuneful guitar, The Magic City dodged all the traps (whimsy, nostalgia, artifice) and achieved, in an essentially contemporary voice, the authentic psychedelic melancholy of the best Incredible String Band. Timony followed this up with her spare and harrowing solo record Mountains, which saw her stomping around her secret garden like Sylvia Plath in Doc Martens.
The Golden Dove's surreal snapshots are as o'erwraught as evera snake in the sky, a telephone on firebut Timony balances these fractured fairy tales with a frank and vulnerable engagement with her confusion, her weakness for "songs of death," and her passive-aggressive impulses. "Get the hell out of here," she sings in "Ant's Dance," over an elaborate and insistent guitar line. "Now please come back, I need you near." These are words as straight from the heart as any Joni Mitchell plaint or Sleater-Kinney screed, but Timony then shifts gears into her singular symbology: "I've been hypnotized by the peacock singing." One of a menagerie of animal spirits that appear on the album, the peacock is the boy, of course, with what another tune calls "his fifty eyes, so haunting."
By translating her ordinary suffering into fantasy, Timony is not being an escapist. She's enriching those feelings through the magic, even cosmic language of metamorphosis. That's why "14 Horses," the album's most singular cut, manages to mourn both her love and our world gone wrong. Over a Plains Indian heartbeat pulse lightly laced with strings and telephone tones, Timony chants "I don't know how it came undone / The planet of Kingdom Come." As alwaysher poise feline and self-reliant, her voice velvety and surethe woman does not flinch from the dark.
>