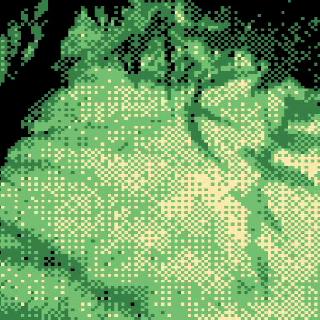 July 14, 2007
Kyle Silfer is a pal of mine who lives in Albuquerque, New Mexico. We had some wild times, playing dominos and stuff, and still enjoy margaritas whenever our paths cross, which is only occasionally. Kyle is a fan of obscure and trippy 80s videogame mods and other esoterica, and, back in the day, was the editor of the occasional and excellent techcult zine Reign of Toads.
Over the last few years Silfer has been obsessed with making abstract animation flix using the stock Gameboy camera, which has served him somewhat the way that the Fisher-Price PixelVision served some indie auteurs in the 1990s. The last short I saw by him, The Pellucid World, was shown in a few fests and has an autumnal, immanent vibe that reminds me of digital Brackhage. I dug it, watched it a lot, showed it to people.
The latest, a slightly more wiggy one called Pixielation, features some elementary feedback effects, stop motion, and lots ofsurprise!pixelation. Here we get a vision of a videogame hack that is not enslaved to adolescent snark, let alone narrative, or even representation. Silfer calls it expanded machinima, the way Gene Youngblood talked about expanded cinema in the 1960s. You can read Kyle's savvy and well-informed take on video game art in an article he wrote for the Alibi. Some of Silfers images are truly uncanny, and I like the sweet, dorky Wurlitzer soundtrack too. Video iPod enabled.
>