publish
Check it out
Saharan Guitars
Dune rock and other gritty dreams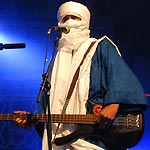 April 30, 2007
Like the late Ali Farka Toure, Tinariwen is a guitar-driven act from Mali whose traditionally styled tunes also resonate with rootsy Americana. But rather than Toure's invocation of country blues, the Tinariwen crewwho belong to a nomadic Berber desert folk called the Touaregrecall a swampy blues-rock combo from the early 70s, especially on their new record, Aman Iman: Water is Life
. The vocals are raw, the circular groove lopes along, and the songs boil down to variations on a simple if hypnotic theme. I don't know what these guys and gals are singing and ululating about, but it sounds real, like joy stolen from the mouth of exile.
What really opens those golden vistas in your brain are the layered modal guitars: earthy and exotic, light-fingered and funky, they flutter alongside Eyadou Ag Leche's restless and propulsive bass like tent flaps in a warm breeze. The power and punch of Aman Iman also has a lot to do with production as well. For the new record, producer Justin Adams, Robert Plant's guitarist and producer of the first (and more laid-back) Tinariwen album, has scuzzied up the timbres just rightcrunchy, reverberating, and gritty, like Sahara Desert sand dredged from the big muddy. This sound may be a calculated move towards producing the "rawness" associated with authentically earthy guitar jams, but I don't care because it works. Half these songs rock like Crazy Horse on the nod.
The first time I heard Tinariwen, it recalled a 2002 record by a Saharan guitarist that I have never stopped adoring, Hasna El Becharia's Djazaïr Johara
. El Becharia comes from southwest Algeria, overlapping historic Touareg turf, and the music here, made when the multi-instrumentalist was in her 50s, features a similar sort of fleet-fingered electric guitar, less liquefying but more tuneful. In addition, the driving beats that back her up are more propulsive and polyrhythmic, not to mention more traditional, although she came up with these improvised compositions while on tour through France. Finally, the chorus of voices that support heron songs often drawn from the wedding music that Saharan guitarists often rely on for bread and buttersounds less like your traditional band and more like a community.
For a more ferocious slant on Saharan electric guitar, you could do much worse than pick up Group Doueh: Guitar Music From The Western Sahara, although at the moment you would have to still be retro enough to own a turntable to do so. This raw and vibrant record180 grams, gatefold, natchis the first vinyl release from Sublime Frequencies, a label devoted to outsider ethno recordings and DVDs, principally from Southeast Asia but including zones as unusual as Iraq and North Korea. Like Tinariwen, Doueh's guitar is equal parts trad and rock, only in this case his lilting Saharawi stylings are inflected with heavy-duty Hendrix and, given the crudity of some of these recordings, not a little Stooges. Though he has been approached by Moroccan and European labels to make records, he's always turned them down, but for some reason agreed to release some of his homemade recordings and photographs to Sublime's Hisham Mayet, who has recently returned from this tense and dusty land after giving a stoked Doueh a copy of this fierce and shimmering LP.
>