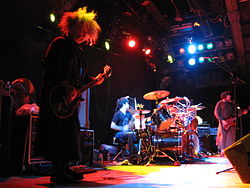 July 21, 2008
We all have vast and embarrassing gaps in our cultural know-how, and I now know that one of the lamest in mine is my faint exposure to the Melvins, those off-kilter West Coast sludge metal maestros who gave as good as its given at Slim's on Friday night. Guitarist Buzz Osborne, looking frizzed out and vaguely demented like a cross between Pere Ubu's Dave Thomas and The Simpson's Sideshow Bob, commanded his guitar with unsmiling pleasure, while (relatively new) bassist Jared Warren did the lion's share of the singing, and the two snuggled up drummers, the core Melvin Dale Crover and the newer Coady Willis, churned out mirror image grooves that kept cracking the glass. (Warren and Willis are also two-thirds of the excellent Big Business, a bottom-heavy, bass-driven molten monster that opened the show with more fire than most headliners spout.)
The Melvins played continuously, with no gaps for applause or beer gulping. They proved themselves both masters and metaphysicians of the metal riff. Hear ye, hear ye, they seemed to say: the riff is an essential form of reality, a seed crystal of cosmic and animal substance, and its variations and repetitions and subversions all circle around a core vibration, like a vent in the earth. Historically, the riff bubbles up, doomed and witchy, from distorted psychedelic blues (Hendrix, Blue Cheer) and is further hewn and reduced by acts like Black Sabbath, Zeppelin, and even minimalists like Free into prima materia. More impersonal than evil, more tectonic than musical, the heavy metal riff sounds too archaic to ever be merely retro. As much a chunk of calcified rhythm as a musical sequenceof tones or timbres, the riff is funky without being sexy, or rather, its sexiness is, at base, base: rude and ritualistic rather than charmed and groovy, even if it grooves like a dark charm.
When it comes to the riff, the Melvins are both traditionalists and mad doctors, and they explore both modes with slyness but–to their great credit–without irony. On the one hand, they are self-conscious and clever interrogators of the form, which is why much of their vast catalog is strange and challenging, even ugly. Even playing more accessible stuff, as they did Friday night, they use offbeats and fucked-up fills to strain and almost shatter the unspoken pulse that keeps the riff a'chuggin. Then they'll submerge the pace in molasses to test the blacker waters: how slow can you go and still go? Even when they played more predictable progressions, they still mix it up, resisting the easier satisfactions of the tonic or the minimal-thought power of repeating a glory riff unto infinity. Their most straight-ahead is crooked. But despite their orneriness, they have no problem serving up riffs that have all the complexity of barbequed ribs, and then shoving them into what George Clinton memorably called our earholes.
This acerbic generosity shines through the many songs the band performed off their new album Nude with Boots, which some guy online has already compared to Cheap Trick so I don't have to. The opening track, "The Kicking Machine" is a wry and cheeky homage to Zep's "Out of the Tiles," and it lasts only a couple of infectious rounds before they leave it to echo through your mind. The tune's title is also as succinct a definition of the band's own twisting and propulsive rhythmic effects as you could want. The record is full of heavy joy—as is Big Business's last one, Here Come the Waterworks, which I picked up on gold vinyl at the show on the recomend of a wide-eyed young'in. But Nude with Boots still can't hold a guttering candle to the Melvins live, when the chewy pulse of immediate electricity bathed us all in a feral, goofy firestorm.